Alfie Strong


Interview by David McLeavy

-

Published March 2018

-

As we start this interview you are about to open your solo exhibition Beyond the Pylon of the Pit at Vitrine Gallery. I wondered if you could talk to me a little more about the journey that your work has taken over the last 12 months or so to get to the this point ahead of the show opening.

Hello, a good question, thank you. It allows me to mention several truly great artists that have had a very important and positive roll in my both my work and life over the last 12 months. Beyond the Pylon of the Pit is the first body of work I've made in the last year or so that hasn't had some direct involvement with another artist, apart from the odd piece in various group shows. I am highly critical of my own work and often have wobbles about its purpose and relevance in general. From the start of 2016, I found the work that I was making was disappointing… I found that I was making work that was repetitive and worse still, lost and empty. It was obvious that I perhaps wasn't learning anything from myself, the thoughts I was having, what I was reading and what I was experiencing. It was a hard conclusion to arrive at and I think I remember wanting to stop making work. It was around this time that I started to work with the artist Uma Breakdown, from then on we spoke almost every day and our conversations led to a collaborative exhibition at Xero, Kline & Coma at the end of 2016. Our intense relationship taught me so much about everything… about who I was, what I was experiencing and how I was experiencing it which allowed me to discover what I was doing as an artist. From then on I made the decision to only work collaboratively with other artists that I admired, at least for a period. This prompted a working relationship with Jake Kent whom prior to that I had never met (it is exactly 1 year to the day that Jake and me met as I write this) These working relationships made me comfortable enough to start producing my own work again. I still, however, feel a strong urge to work collaboratively as feel it is one of the most elating and useful modes of practice. I am currently working on, and towards, projects with both Michaela Cullen and Georgia Lucas-Going who make and think about art in a way that I could only dream of, which fills me with so much excitement.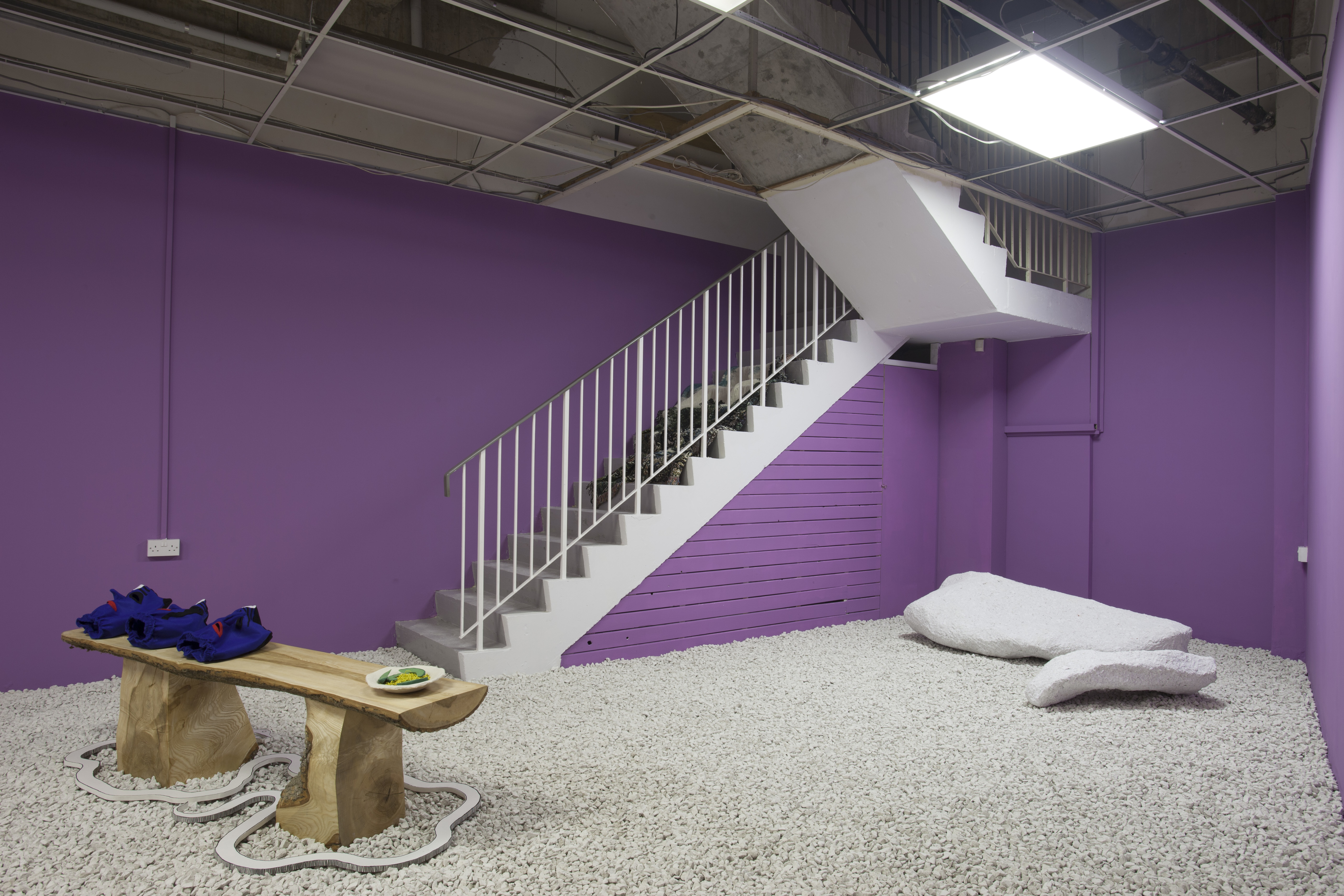 Heart Shaped like a Baseball Bat, installation view. Mixed media, 2015. Courtesy of PERICLO/ Tŷ Pawb'
Photograph by Dewi LLoyd


It's interesting to hear about your relationship to collaboration. It seems as if collaborative projects develop your work just as much, if not more than working independently. I wanted to talk about your references. Your work for me seems to sit somewhere between folklore aesthetics, elements of illustrative styling and pulling in a somewhat 1990's touches. Could you talk in more detail about your references.

Yes, collaboration! It's proven invaluable to me both personally and professionally it's beautiful and educational. It works wonders for dragging you out of an introverted, worm-hole of your own uninteresting and widely irrelevant nonsense. So a massive thank you to those that I have worked with and a massive thank you in advance to those who, someday I will work with.




36890 Daze, installation view. Mixed media, 2015 Courtesy of STCFTHOTS. Photograph by Harry Meadley


In terms of points of reference in my work… The folklore thing is present, I'd be lying if I said otherwise but it's just one thing in a broad and continuous body of research into anthropology, the supernatural and the weird and the eerie, etc. I build on it and refer to it constantly. The interest goes back to the early years of my life and times I had with my first family. I saw a lot of it, my parents were in to the occult and the arcane so the house was full of that kind of imagery. In the 90's growing up in and around North Wales there were large new age, rave, neo-pagan and hippie communities that my folks were involved with and we went to a lot of festivals and gatherings that actively celebrated the kind of things that I reference now in my work. I mean without going into to too much detail, it's just stuff that's always hung around with me. I use it in different ways to try to understand the things that are in front of us, and in increasingly uncertain and turbulent times, I use it to try to search for meaning on a more transcendental, emotional, fictional and even gnostic level. I dunno if it's a form of escapism or maybe nihilism, or perhaps just delusional fantasies that I invent as a way of exiting from the things that I feel are upsetting. All that said, I like to handle my work with an acute sense of humour and combine its darkness with comedy. The horrible characters are cartoons, they aren't real, just comparisons. I guess that's where the use of illustration allows it self sit in the works that have gone beyond the initial planning and ideas stage.




Dormant Parasite, w/Jake Kent installation view, 2017. Courtesy of CBS Gallery


I wondered if you felt or have noticed a resurgence in popularity within contemporary art of influences around the occult or supernatural? I am thinking of the work of artists like Blue Firth, Linda Stupart and Ben Jeans Houghton. If you have, I wondered if you feel that may or affect the perception of your work or perhaps position your work within a larger context of artists/peers?

In the last few years we've seen shows and events such as Language of the Birds: Occult and Art at New York University, Neo-Pagan- Bitch-Witch! at Evelyn Yard, Witchy Methodologies at ICA, The Dark Monarch; Magic and modernity in British art at Tate, St. Ives, Witches and Wicked Bodies at The Scottish National Gallery of Modern Art and Folk Horror Revival: Awakening the Fields at The Hepworth to name just a few.

The occult, mysticism, the supernatural et al. go well with art. They all have the ability to challenge your perception of a known world, and it's defiantly being referenced in peoples work at the moment. I would, however, be reluctant to group those artists together or think of it as a scene. It's a hugely broad field that can be used and thought about in so many different ways, rendering it almost impossible to categorise. I don't know any of the artists that you mentioned personally but I do truly love the work they make. As well as myself, I would guess that they have been using these themes in their work and research for a long time and I would be worried if people saw it as a growing contemporary trend that perhaps myself and other artists have just dropped on to. The belief in and dedication to the subject goes beyond that… But, it makes sense that we see it more and more. If now isn't a good time to recall and re-examine ideas formed around the subject, then when is? Anxieties are growing with it being a turbulent and unstable time, things seem a bit dicey so it's easy to want to reject what is offered to us and look towards something else as an alternative, even if that alternative seems bazaar or implausible and forms itself around the notion of the unknown. Sometimes that unknown can feel clearer, and certainly more desirable than what we actually experience and see in real life.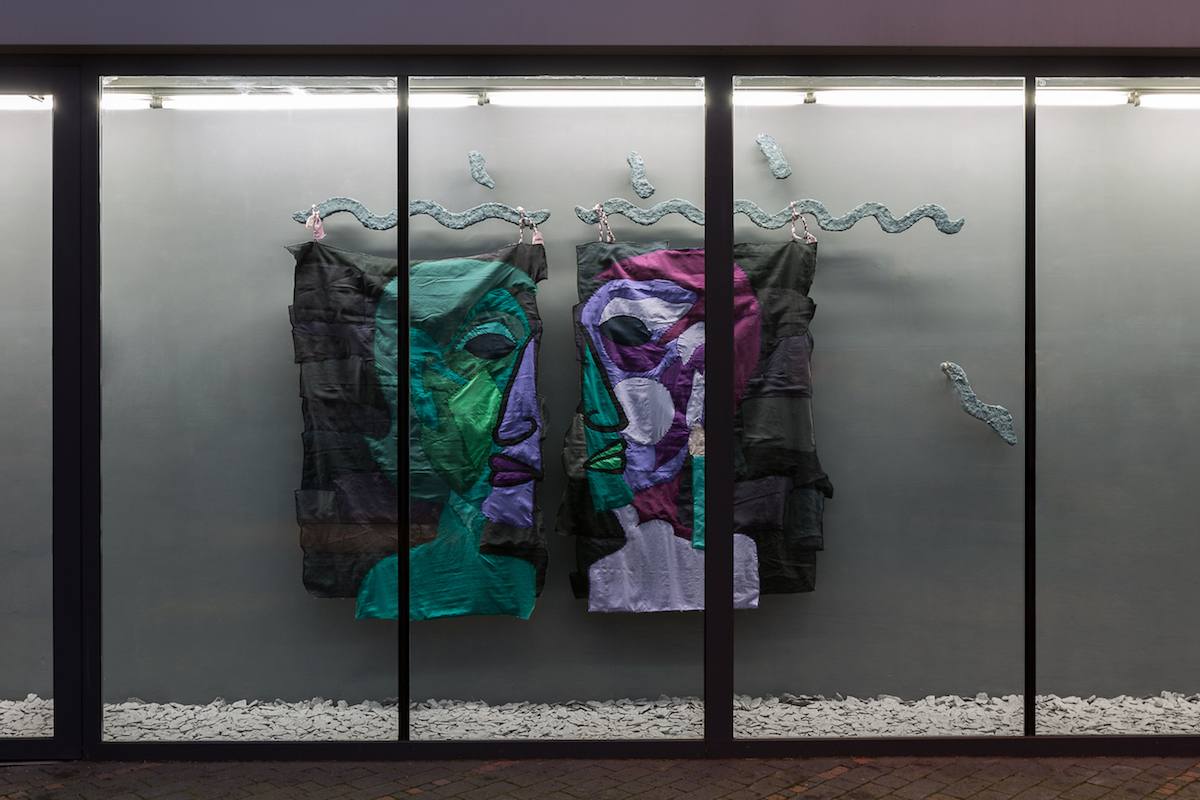 Lamia, my Reflection, Silk, cotton, cotton thread, papier-mâché, water from Gorier Lake, 2018. Courtesy of Vitrine Gallery. Photograph by Ollie Harrop


Do you feel like your work or the influences that factor into your work are a way of making sense of the world in some way? Finding a new order perhaps..?

I wouldn't really say it helps to make sense of the world, it probably does the opposite, it tangles it up further by rejecting rationality. Instead, what it does do, is kind of normalise the nonsense and the unconventional by comparison. For me, it helps to shift perspectives slightly and reshuffle the order of importance of things. That's not to say that I don't do, partake in or enjoy the things that I deem less important, that's privileged enfant terrible territory and I hate people like that. Haha, basically, I probably wouldn't spend so much of my time making art if I had a more conventional structure of priorities and things of importance in my life… Probably.

What's next for you?

Making do. Getting by.

-

Alfie strong is an artist living and working in Leeds. Recent solo exhibitions include Beyond the Pylon of the Pit, Vitrine Gallery, London, Heart Shaped like a Baseball Bat, PERICLO, Oriel Wrexham, Wrexham, Spit Me out said my Ashes to their Urn, GRRG, London and Je m'appelle Mother Fucker, à côté du 69, Nantes, France. Recent group exhibitions include Rabble MC, Hutt Collective, Nottingham, Tokyo Drift, Millington and Marriott, Art Licks Weekender, London, The Octopus was Naked but the Crab was Dressed, Plymouth Arts Centre, Plymouth and You think the only people who are people, are the people who look like you. But if you walk in
the footsteps of a stranger, you learn things you never knew you never knew, 2 Queens, Leicester.

-

If you like this why not read our interview with Bo Choy

-

© 2013 - 2018 YAC | Young Artists in Conversation ALL RIGHTS RESERVED