Clare Holdstock


Interview by David McLeavy

-

Published January 2018

-

Within you work you seem to be very concerned with physicality and the material, I am thinking of the cast works in particular. Could you talk a little more about your choice of materials the relationships you have with them.

Yes, this is something that people often address when discussing my work. That materials feel authentic to me is very important. I originally trained in painting but I couldn't truthfully represent the materiality of the environments that I was interested in through that medium. I love Modernist buildings and so my sculptures naturally take on the materials used in this type of architecture. I first started to create concrete casts as a means of being true to the surfaces that I was interested in. Gradually, the sculpture that I had originally created to fill up floor space and to compliment my paintings became more interesting to me than the paintings themselves. Now sculpture is the main part of my practice. I have worked a lot with ciment fondue as you can do a lot more with it than with concrete. Ciment fondue sculptures can be cast as hollow objects but they still carry the weight and texture of concrete.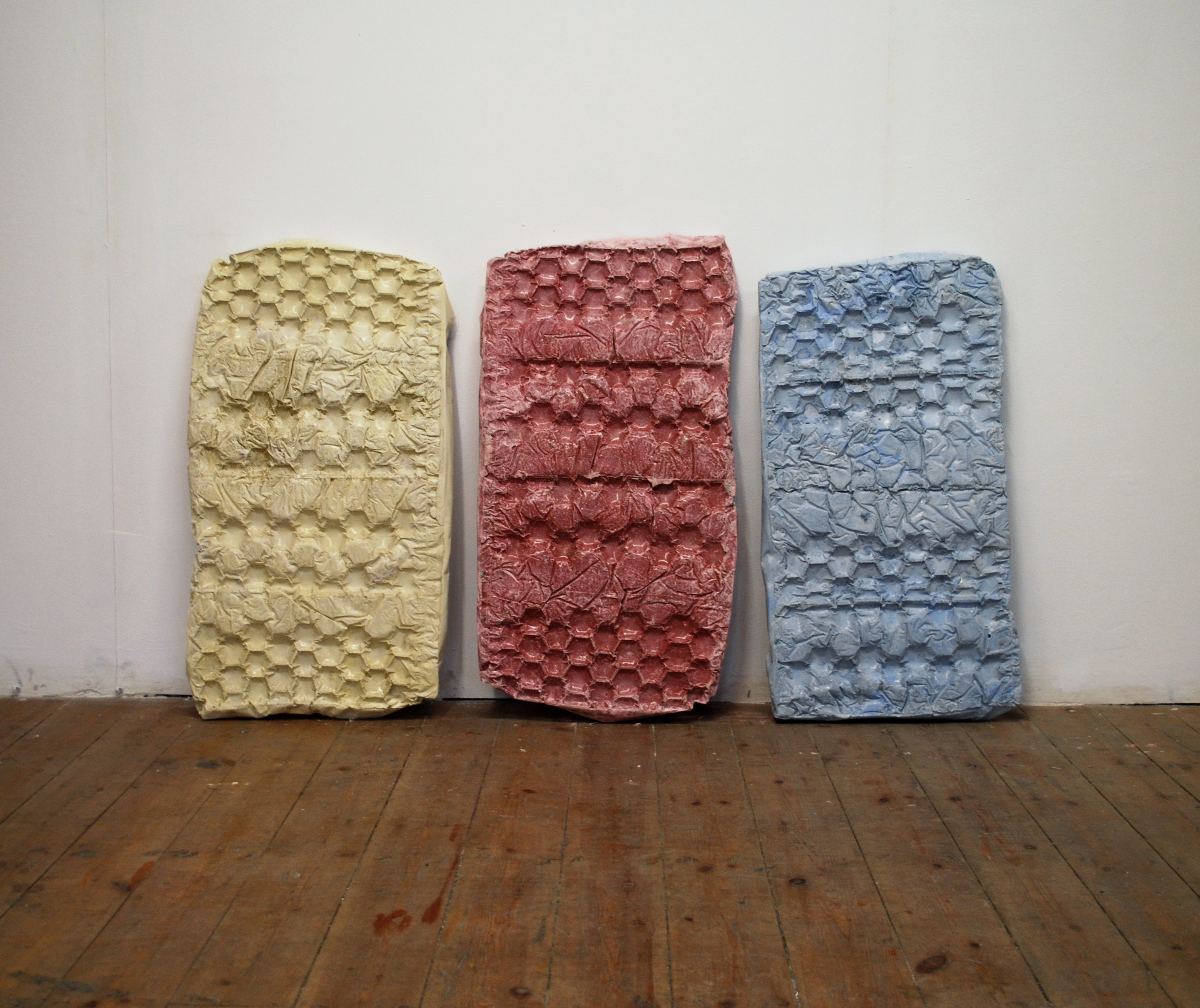 Periphery series, air pillows in Bauhaus colours, ciment fundue and fibreglass, 80 cm x 120 cm x 5 cm, 2016


As a result of being drawn to bright colours, I have recently moved onto resin. The portrayal of such colours is pretty difficult in concrete, as it always has a dusty, aged effect. In contrast the resin works are quite zingy. The colours are very saturated and attractive. Seeking to use other materials present in the landscapes which I'm drawn to, I've also worked with metal, primarily rebar and steel. It is very important for me to use metal rather than creating a metal effect using different materials. Metal pervades overlooked urban environments and it's these landscapes that I'm intent on addressing through the work. Cellophane and plastic have also recently started to play a big part. Most urban wastelands or peripheral spaces are strewn with discarded plastic and packaging. In the works, I wanted to create a sense of that urban landscape but I'm also becoming more and more interested in the insanity of the extent waste plastic we as produce as a society and as individuals. It's all over the news. The ciment and resin casts also tend to be of plastic objects. Creating hundreds of casts of these objects in very permanent materials in a way feels ludicrous but I also think that it wouldn't be a very accurate representation of so much waste if I weren't over the top in the volume of the things that I am creating. In a way I hope that creating casts of these objects draws attention to them, as usually they are quickly discarded and forgotten.

You mention that concrete and metal (to give a couple of examples) are materials often found in the environments that interest you. Does where you are based, in Hull, influence this in some way?

I actually first became interested in these materials when living in London. There was a Brutalist estate called Southwyck House on a route that I passed everyday. I also lived right next to the Heygate Estate when I first moved to London so these hugely influenced my ideas and practice. These buildings were vast and sprawling but it was often human elements within these buildings or imagining people living in them that I was drawn to. There was another estate that I lived near, Tulse Hill Estate which had balconies overlooking the green space and plants around them. It was quite clear to me that this was originally intended to be a utopian scene but crime in Brixton around that time meant that the residents had had to use metal sheets, chicken wire, and bars, even doors turned on their side, to barricade themselves in.

In Hull the landscape is a lot quieter and less extreme but there are certain areas that have really affected me. There is an incredible footpath next to Alexander Dock, which runs alongside the new turbine factory there. You can walk along the path and it is completely desolate, and the landscape alongside you leading out to the river is so vast and sprawling. It's really beautiful. The path alongside the seemingly endless steel fence separating you from the factory is strewn with cellophane and rubbish. It's these human traces, next to very confident engineering that interest me and inform my work. I've also become fascinated by temporary road signs, especially when the signs have been removed and the metal structure is all that is left perched on road sides. These aren't specific to Hull, they're universal to towns around the UK, but no two appear to be the same. I find this really fascinating.

When I think of your work, I picture your Ciment Fondue cast works, however your new work The Theories of Ruin Value seems to took into a slightly new direction. I wonder if you could talk a little more about this change in style.




Ruin Values, Installation Shot, steel, cotton, resin, wool, sign paint, 2017


I don't see the two series as being that far apart from each other. Through the cast works in the earlier Periphery series made last year I was exploring the aesthetic of Brutalism and some elements of Modernism, particularly the Eames' Toy. At the same time that I was making the cast works, I was making spindly works from rebar which I saw as relating to the internal structure of Buildings. When I visited Park Hill, rebar was protruding from some of the crumbling walkways. Rebar would similarly protrude from concrete fence posts in the areas that I used to play in Hull when I was a child. Most concrete has an internal rebar structure and casting concrete objects I was always equally as fascinated by this as the materiality of the concrete itself. I think that welding the three metal Dancing Figures for Periphery led me to start noticing road signs and how simply and effectively they were welded and engineered. I wanted to comment on this in the new Ruin Tree series. The branches of the Ruin Trees are populated by cast objects which, like the air pocket panels in the Periphery series, refer to packaging which might be found in neglected areas like scrubland or underpasses. They are suspended in trees and become kinetic rather than static and placed against walls or floors. For the Theories of Ruin Value series, I have also cast a series of bubble wrap panels which are similar to the ciment fondue casts. These new works are cast in resin rather than ciment fondue. In the exhibition Ruin Values they are displayed on the wall rather than on the floor as I wanted them to read like traffic lights. They are also designed to have lights behind them so this also changes the work slightly. The resin casts end up being eye level and in them the discarded bubble wrap becomes literally heightened. In a sense, in these works I feel as though the ruinous state of Modernist architecture and some urban landscapes is being redressed and questioned, albeit in a playful way.




Ruin Values, detail


You repeatedly refer to moderism or modernist architecture in particular. Is it primarily the reference to the aesthetic of this style of design or are there other elements that act as an influence for you, such as the social and political vision of modernism?

It was initially the aesthetic of Modernism that drew me to it. The scale of Modernist high-rise buildings like the Heygate and the other flats surrounding Elephant and Castle when I first moved to London to study my degree were so surprising to me. I'd never lived anywhere like that. In Hull the estates are a drive away from the suburban area that I lived in. Even then, apart from a few standardised blocks of flats, Modernist estates like Orchard Park and Bransholme in Hull are pretty low-rise. From a distance, they are also architecturally unremarkable compared to the striking angularity of many buildings in London.




Periphery series, welded figure, rebar, coat hanger, cellophane, air pockets, 170 cm x 50 cm x 50 cm, 2016


This visual fascination has led to endless amounts of research on this type of architecture, how people came to live in it and how it came to pervade many urban landscapes. Once you're aware of the utopian roots and the initial socialism of Modernist architecture, which was widely implemented in this country as a result of the advent of the welfare system, it's pretty hard to think about or look at this type of architecture without considering these ideas.

Saying this, there is also a darker, sometimes chauvinistic and dystopian side to Modernism. The hubris of the architect is an idea which is often explored in texts on Modernism and an idea that I am interested in. There is also a video of Peter and Alison Smithson, the architects of Robin Hood Gardens speaking quite disdainfully about the inhabitants of their architecture, saying in relation to the mistreatment of urban space by its inhabitants, that perhaps architects should just 'leave people where they are to smash it up in complete abandon and happiness so that no one has to worry about It anymore'. I hope that in my work, particularly in some of the painted cotton banners that this darker side to Modernism also comes across.




Periphery series, large cement totem, ciment fondue and fibreglass, 120 cm x 60 cm x 60 cm, 2016


What are you plans over the next year?

Over the next year I'm planning to really experiment sculpturally with the packaging casts in the studio. I think that their forms and the ways that they're displayed could be pushed a lot further. There are also quite a few resin casting techniques that I'd like to experiment with and haven't yet tried out.

Further to this there are elements of my work that I'd like to develop. I'm very interested in creating atmospheric environments or installations that transport the viewer to a place outside of the gallery space. I'm fascinated by landscape and narratives of utopia. An installation which included lighting, perhaps sound, and an enveloping of a space with fabric would really emphasise this. So I'd also like to try that out. I'm looking into residencies for this as my studio space really isn't big enough. I'm really excited to push all of these ideas and to continue making!

-

Clare Holdstock lives and works in Hull. Recent projects include Ruin Values, Queens House, Hull, Periphery II, Ground, Hull, Manifesto: The Campaign Shop, part of Substance, Hull and In Nothing Flat, Old Granada Studios, Manchester.

-

If you like this why not read our interview with Liam Fallon

-

© 2013 - 2018 YAC | Young Artists in Conversation ALL RIGHTS RESERVED