Natasha Tontey

Interview by Sara Thorsen Fredborg

-

Published in December 2022

-




Natasha Tontey, Garden Amidst the Flame (2022), film still, courtesy of the Artist with the support from Auto Italia (London, UK), Shedhalle (Zürich, Switzerland), La Becque (La Tour de Peilz, Switzerland), and De Stroom Den Haag (The Hague, The Netherlands).


Your recent film, Garden Amidst the Flame, continues your research into the Minahasa, an Indigenous nation in North Sulawesi, Indonesia. The protagonists are a dance troupe of school girls who practice kabasaran, an ancient martial art and war dance. In the karai ceremony, warriors (traditionally men) are granted an armour of invincibility. You use this ceremony as a coming of age story for the group, particularly the girl, Virsay. Why did you choose this ritual, and the idea of 'invincibility' as framework for the story?

The idea came from the Karai ritual that I actually participated in. Karai is a ritual in which Minahasan warriors are "dressed" in invincible armour to make them invulnerable to tribe wars. Most of the time, Karai is misinterpreted as a ritual to seek invincibility and power. In contemporary Minahasa, Karai is largely understood as a hyper-masculine ritual as most of the participants are male. As a Minahasan, I am intending to contemplate whether the understanding of Karai as hypermasculine practice is possible to be shifted. Departing from a curiosity to investigate the femininity in ritualism in Minahasa, I participated in Karai and collected field notes as a method to develop a queering approach. If the first human in Minahasan cosmology was a woman called Opo Karema, why do the cosmology and rituals carried out in the 21st century still consider the role of women as navigators in domestic space and seldom considered as warriors?

The plot of Garden Amidst the Flame is written after I participated in a Karai ritual. The sublime immaterial experience of digging, taking part, and observing my ancestral culture inspire me to conceive this work. Symbols and myth are adapted and collided with fiction and critics in order to construct a non-linear narrative for the story. The experiment and research mutate into a fantasy film. The work explores the psychology of the many fictional characters appearing in the film; the main young protagonist Virsay, her younger sister Mikha, Grandpa Yop, Coelacanth monster, Rooster beast, and most importantly Wulan Lengkoan the child gang. All of these characters interact with each other to think through a new method of speculative care, compassion, with the idea of opposing the hypermasculine presentation of Minahasan ritual culture and everyday life



Natasha Tontey, Garden Amidst the Flame; Lacuna for Compassion (2022), 'Belly Button' installation at Singapore Biennale 2022 Named Natasha, photo courtesy of Singapore Art Museum.


As Virsay experiences different realities, she meets various characters. I was intrigued by your coelacanth, who appears to be half fish, half woman. She is larger-than-life, constantly pipe smoking, motorcycle riding, profound, humorous, and fierce. Throughout the film she poses questions such as "How am I to tell you a story if you don't have a history?" and comments "To meet our ancestors, we can simply look beyond our belly button"

I'd love to know more about her? Why was it important to include a coelacanth's perspective?

I wanted to capture a mesmerising/flabbergasting feeling of a young girl meeting a mythical creature that gives them words of wisdom, that nourishes and remains despite the impossibility. This Coelacanth is seen and understood as a behemoth that still lives in the sea of North Sulawesi but is seldom mentioned in Minahasan cosmology. They are living fossils that lived more than 400,000 years ago. Considered as an extinct species, they reappeared and were found in the North Sulawesi sea during 2000-2018. Their story as a species inspires me to bring this character on the screen. The quote that Coelacanth said in the film is derived from my field notes and ancestral wisdom. I reckon Coelacanth could be a new behemoth that has never been written, a mythical figure that can spawn wisdom to Minahasan and the world with its uncanny resemblance.

One moment when I was in a ritual to communicate to the ancestor, a mediator, who was possessed by the spirit of the ancestor, explained the philosophy of the belly button. According to her, the belly button is the closest thing that you can find to connect with your ancestor. The belly button is part of your mother organ, and your mother is your ancestor. I found this idea really striking.


In previous work, concerning prophecy and speculative futures, you've focused on cockroaches which you refer to as "living fossils". The same term is usually applied to coelacanths. Where does this fascination with ancient animal species come from?

If we reflect on today's society, humans are still considered the subject. The centre in every ecosystem. However, what I'm trying to do is to propose a fiction—or perhaps some kind of thought-provoking practice, in which the notion of humans is revisited and understood using the agency of cockroaches, coelacanths, stones, and other ancient more-than-human entities. I offer an idea: what kind of knowledge can humans generate from the world-building of ancient beings and their historicity? How to build a sustainable future for multispecies interaction? I attempt to somewhat see the cockroach and coelacanth as a case study, turning what is considered old fashioned and a pest into powerful knowledge in a form of science-fictioning. Less science, more fiction, actually.



Natasha Tontey, Wa'anak Witu Watu (2021), film trailer, at Singapore International Film Festival 2021, courtesy of the artist with the support of Other Futures and transmediale.


Technology is an important aspect of your practice. You work in video and gaming engines, and your editing style is closely linked to cyber culture. You've used your research into the Minahasa across several projects. How do your mediums interact with these themes of ancient knowledge, cosmology and the spiritual?

I'm interested in looking at ancestral knowledge with a contemporary vision, looking at the possibilities to generate a new kind of storytelling. I think anything that relates to spirituality, animistic, and transcendental not necessarily observed as something old-fashioned or 'traditional.' Many colours that are related to the ritual are often associated with something earthy, however according to my experience of doing rituals I feel surrounded by a colourful spectrum—almost like a magical psychedelic experience. I think this notion is then translated into the medium as well, and how I approach the medium and why it's important for me to apply modern technology in understanding ancient knowledge, cosmology and the spiritual. It's the feeling of the unknown, in a poetic way.




Natasha Tontey, Garden Amidst the Flame, photo by Henry Mills, courtesy of the Artist with the support from Auto Italia (London, UK), Shedhalle (Zürich, Switzerland), La Becque (La Tour de Peilz, Switzerland), and De Stroom Den Haag (The Hague, The Netherlands).




Natasha Tontey, Garden Amidst the Flame (2022), installation at GHOST;2565 (Bangkok, Thailand), photo by Op Sudasna.


As part of your research into the Minahasa, you mention that you've participated in full moon rituals (Ba'ator in Mahtambulèlèng) a ritual that generates a phenomenon named Pakampetan, where a state of monism between human and the earth is achieved through ancestral conversation mediated by the Tona'as (a traditional religious leader/mediator/healer). The ancestral spirits gave the advice to change your appearance towards a more traditionally feminine expression. Consequently, you ask the question - Could it be that this ancestral advice on my womanhood is a sample of a complex contemporary Minahasan cosmology, one that's intertwined with the ideological trajectories of colonialism, monotheism, the nation-state, and capitalism? This question sounds like a starting point for 'Garden Amidst the Flame'? How does this question play into the film?

And could you tell us more about your experience with the full moon ritual?

Yes, that is one of the starting points when I write 'Garden Amidst the Flame.' At one of my first experiences of the full moon ritual I was asked by the spiritual leader and their troops questions such as 'Why do you have short hair?' 'Why are you wearing baggy trousers?' and statements like 'you have to remember your fate as a woman' 'you should get married and raise kids' etc. At that time I answered 'For me marriage feels scarier than the Karai ritual' - and then they answered 'Karai is for men, not women.' That sparked my curiosity. I met other spiritual leaders and studied Minahasan culture from many perspectives. To my surprise many of them are also quite open to gender discussion. When I find a ritual and group that I feel comfortable with I feel solemn, sublime and recharged. Of course I didn't take it at face value, but there is knowledge that I can take and parts that I can criticise.




Natasha Tontey, Garden Amidst the Flame; Lacuna for Compassion (2022), performance documentation at Singapore Biennale 2022 Named Natasha, photo courtesy of Singapore Art Museum.


Do you have any upcoming projects you'd like to tell us about? Will you continue to create works linked to the Minahasa?

For Garden Amidst the Flame, I am also using my findings from the field research to experiment with music, text and performance. I expand this project into a listening room and series of performances. I'm collaborating with children from Kawasaran Wulan Lengkoan (the dance troupe in the film) and musician Wahono(Divisi 62) in this expanded version of Garden Amidst the Flame. In this performance, Coelacanth is the main character that intervenes and interacts with the audience.

On the other hand, I'm currently finishing the final part of this Minahasan trilogy—Wa'anak Witu Watu/The Epoch of Mapalucene and Garden Amidst the Flame are the first two pieces—and expanding the research on Minahasan cosmology. This final part will touch on this issue of deep time philosophy of machines in Minahasa and its relationship to rituality, in which technology is seen as both a risk and a solution. I'm always interested in an offbeat and peculiar idea, such as autophagia, Le Théâtre du Grand-Guignol or ventriloquism.




Natasha Tontey, The Order of Autophagia (2021), installation at Kyoto Experiment 2021 (Kyoto, Japan), photo by Hana Sawada.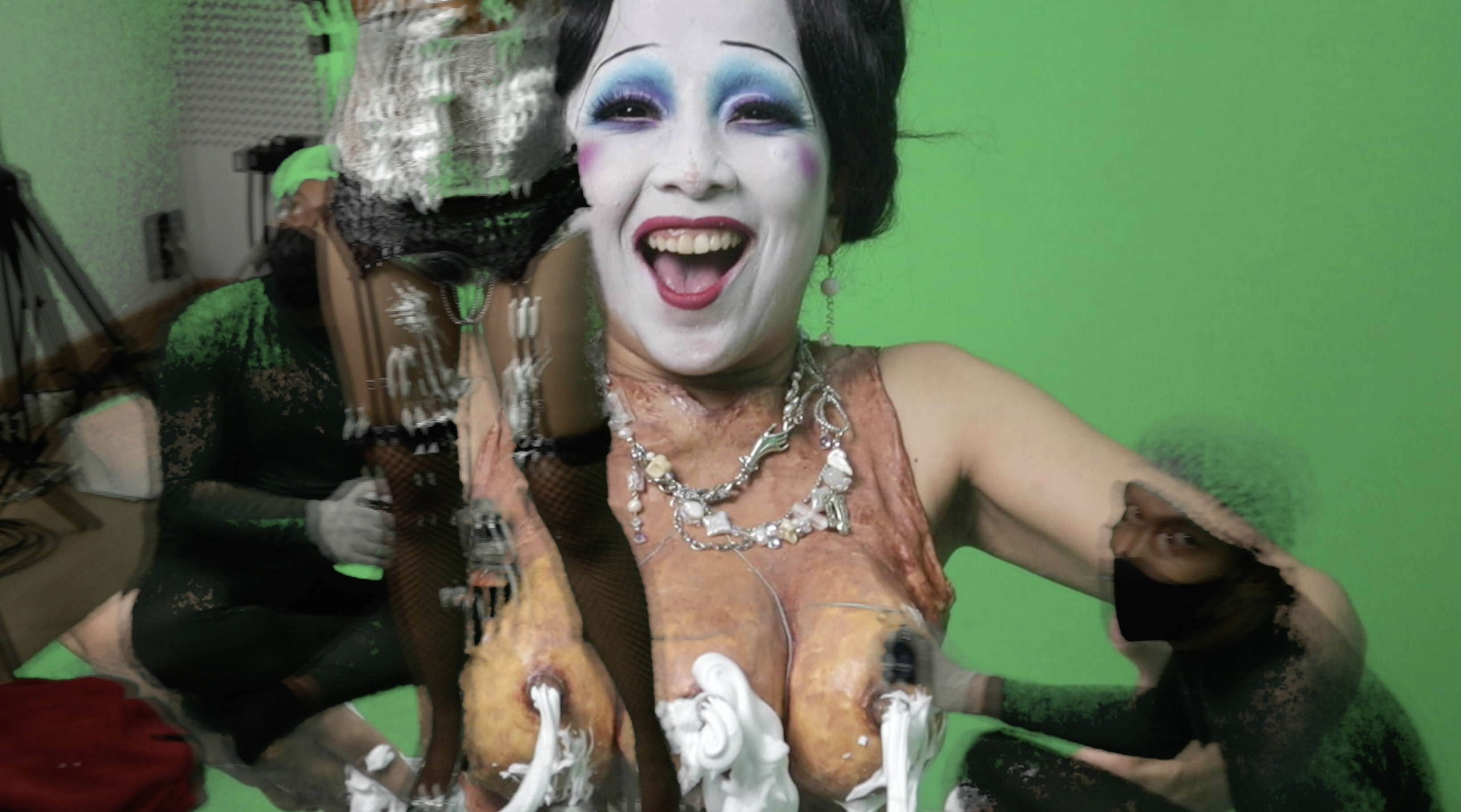 Natasha Tontey, The Order of Autophagia; The Supper of Terror, The Lunch for the Uncanny and Snack for the Unapologetic Moment (2021), performance for Liveworks 2021 (Sydney and Yogyakarta), photo by Yudha 'Fehung' Kusuma.

-

tontey.org
︎ @krazykosmickid


︎ @sarathorsenfredborg

-

If you like this why not read our interview with Maksym Mazur.

-

© YAC | Young Artists in Conversation ALL RIGHTS RESERVED