Rafal Zajko


Interview by Fred Cosci

-

Published in May 2020

-




Amber Chamber, MDF, perspex, plaster, acrylic paint, rubber strap, barley, wheat, silk, valchromat, vape smoke (part of the exhibition Resuscitation, Castor Projects, London, 2020)


You told me that you shut down your last exhibition, at Castor Projects in London, because of Covid-19. The exhibition was officially open for one day and you didn't have an opening either.

Would you like to talk about it?

Obviously the Covid-19 pandemic has had a huge impact on every aspect of life as we know. It felt very strange to be installing the show with news of it and its impact unfurling. It was scary. I could have never imagined that it would have caused the show to close completely and not reopen. In this current state of global anxiety I guess I am happy that at least it got to be installed and documented, and I'm hopeful that it will have a different life in another way sometime in the future.

I tried really hard to push myself with this exhibition - to go outside my comfort zone. I felt a need to go really big, and to break free from the confines of the small studio I work from, and not let that limit me. Also, I wanted return to performance, which had played a large part in my work a couple of years prior.

So I've been working on these sculptural pieces since we saw each other last summer during the Fotopub festival. I started thinking about them as a kind of extension of my own body, and then I thought: How can I bring them to life? How can I animate them? And then I thought: by using smoke! But I didn't want to use a smoke machine, because I felt that's too theatrical. I had this idea of breathing life into something.

Basically the pieces on the wall were animated by me from behind the wall with a vape. I was breathing vape smoke from my own lungs into the works from behind the gallery wall. So, you could see all the works as a kind of extension of me, a kind of prosthetic lung. There is a big red piece called 'Lazarus' - its shape comes from a moth that scientists thought was extinct, but then discovered it's not. I filled the glass dome with vape smoke, and then when it was full, I started sucking out the smokey air with my lungs. So, I was kind of polluting it, but also trying to clean it. So I was the protagonist but also the antagonist..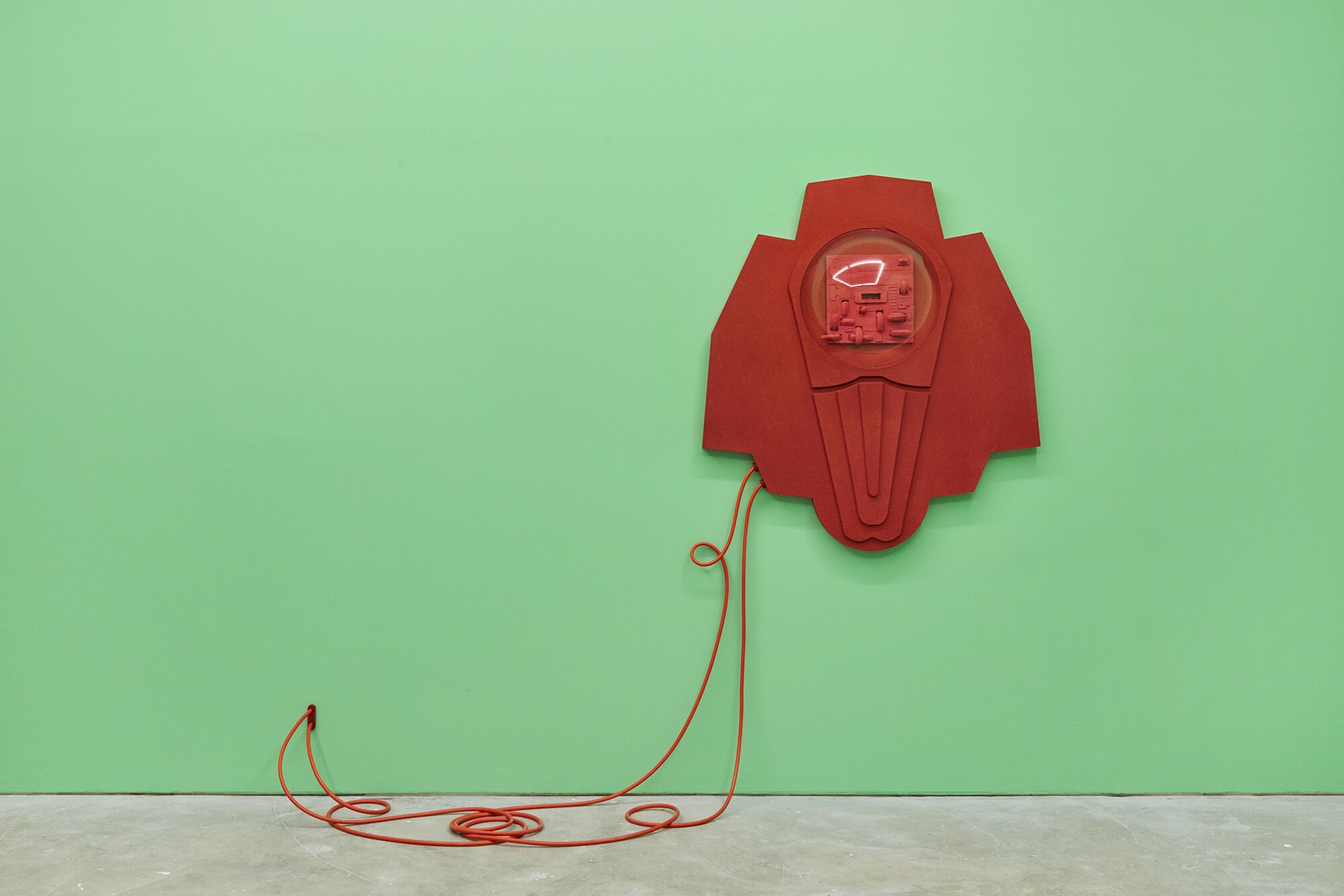 Lazarus, valchromat, perspex, ceramics, tubing, vape smoke ( part of the exhibition Resuscitation, Castor Projects, London, 2020)


In the show it looks like there is a specific storytelling. Would you like to explain the relationship between the artwork and folklore performance that you do?

With 'Resuscitation', I was reflecting upon this point just before death when something is brought back to life. I was thinking about us as a human species trying to save the planet, protect nature before it crumbles.

In 'Amber Chamber' I created a kind of sarcophagus for Chochol, a character from Polish folklore. My thinking was that this character would act as a kind of metaphor for resuscitation. He was a character in a novel called "The Wedding" (1901) by Wyspianski. The author created this character called Chochol who was causing mischief, because people were disrespecting nature. Chochol's form comes from the shape of the hay stacks that would protect smaller trees in the fields during the winter.




Amber Chamber, MDF, perspex, plaster, acrylic paint, rubber strap, barley, wheat, silk, valchromat, vape smoke (part of the exhibition Resuscitation, Castor Projects, London, 2020)


In the performance I was singing a traditional funeral song from my region in North-East Poland. It is a very Catholic area, next to the last remaining bit of primeval forest in Europe. In this region there are a lot of people who are spiritual healers, fortune tellers and older ladies called whisperers. So there's this really weird mixture of Catholicism/Orthodoxy, that is strangely intertwined with paganism.

The song comes from a traditional way of voice emission called white singing mostly sang by older ladies in choirs at funerals. In the lyrics, a person says goodbye to the world, starting with their material belongings, then family and nature. I liked how the lyrics of that song could also be understood as saying goodbye to the earth, as a planet. I wanted it to be interpreted less about mourning and perhaps more about an expectation of something else. New beginnings.

The performance is really deeply embedded in research I have been doing on Soviet cosmism, and Nicolai Fyordorov - his ideas about how he thought that humankind was only going to find happiness somewhere other than earth.




There is also a piece, 'Software IV', which looks different from the others' artworks...

'Software IV', is part of a larger series of works exploring the idea of collaboration and fabrication. Each piece has so far been worked on with different people.

For the initial 'Software' (2018) works I produced a series of three embroidery panels that also acted as cryptic pictorial instructions for people (whom I had never met) to complete the artwork.

Each panel was fabricated by a different person from different backgrounds in the gallery's locality (in Prague) including an architect, a professor at an Art Academy and the gallerist's father. The only information given to them was that they should be produced in concrete, the precise size and that the directive embroidery panel should be incorporated into the work. The results were varied and exciting.

Each of the works was open to the makers interpretation, and so the 'Software' works explored the relationship between artist and maker and stood testament to the huge potential for creative play through artistic collaboration.



SOFTWARE, installation view Three Works Gallery, Scarborough, 2018


With 'Software IV' (2020), I worked with prosthetic artist Dalton Desborough. I initiated the work by producing a cast panel with three empty slots, and then asked Dalton to produce three pieces of work to be inserted into them. The result was this vent-like sculpture with flesh like inlays. I had been thinking about skin and it's connection to ventilation. In recent years we are constantly reminded about the amounts of CO2 produced by our actions. Plane flights, the use of plastic, fast fashion production, the use of internet - even the amounts produced by sending an email! I was thinking about calculating the amount of CO2 produced by a human in their life time by the simple action of breathing. How much CO2 our skin produces through the process of perspiration; how polluting the atmosphere is embedded in our sheer existence.



Software IV (with Dalton Desborough), jesmonite, pigmented silicone gum (part of the exhibition Resuscitation, Castor Projects, London, 2020)


I was wondering also, what kind of inspiration do you find outside the art world? When we were previously talking, you told me that one of your pieces was inspired by the video-game "The Legend of Zelda". I can also see a video-game game aesthetic with all those buttons that remind me of a joystick

Definitely! A computer/video-games game aesthetic is definitely in my work. Specifically the actual physical objects – the plastic controllers etc.. Perhaps it comes from the fact that I come from quite a poor working class family in Poland and I never actually owned a computer myself. I was always going to play video-games on friend's computers. I actually only got my first computer, after I moved to London, aged 19. I got to play all the games that my friends used to have back in the day, because I wanted to have them for myself for the first time. I guess that more than coveting them I almost kind of fetishised them.

I'd also like to add that the kind of aesthetic I use also was influenced from my family background. Half of my family worked in a fabric factory. I remember going there and seeing these huge machines: strings everywhere creating these fabrics with loads of boxes, and then being allowed to press buttons that were doing different things. The other half of my family, who were working in the fields also used machinery which was covered in buttons and stuff. I presume there's this connection between this workmanship and my childhood obsessions with technical appliances and then gaming.



Youthhhhh, jesmonite, wood, wood dye, vape smoke (part of the exhibition Resuscitation, Castor Projects, London, 2020)


I was curious about the objects you take from the 'real' world that you place into your works, like the fag butts or wheat. I like the idea of a link between reality and a fiction you create where I don't expect to find these elements.

The idea for bringing in elements of the real world to some of the sculptural objects is to create a kind of reliquary. Wheat being emblematic of seasonal cycles and nature, working in the fields etc– a motif of the Chochol character. The cigarettes seem to be the perfect reminder of our own mortality. More personally I had just turned 30 and given up smoking for more than 16 years... so they were on my mind – often!


What are your future projects?

Because of the current pandemic future exhibitions and projects have kind of been thrown in the air for me. I think it has really made me think about the future of art in these uncertain times, and how I might learn and evolve from it all that is happening. I think how we experience art might change permanently. I have been thinking more about working collaboratively and in a manner that is generous to the viewer and kinder to the environment – and I don't mean just going digital! I feel kind of excited by this and the challenges it will throw my way.

This year also marks the end of my Masters at Goldsmiths which I have been doing part-time for the last 4 years. All going to plan the degree show will go ahead with an exhibition in September 2020. My hope is that I will be showing some newly evolved breathing wall sculptures.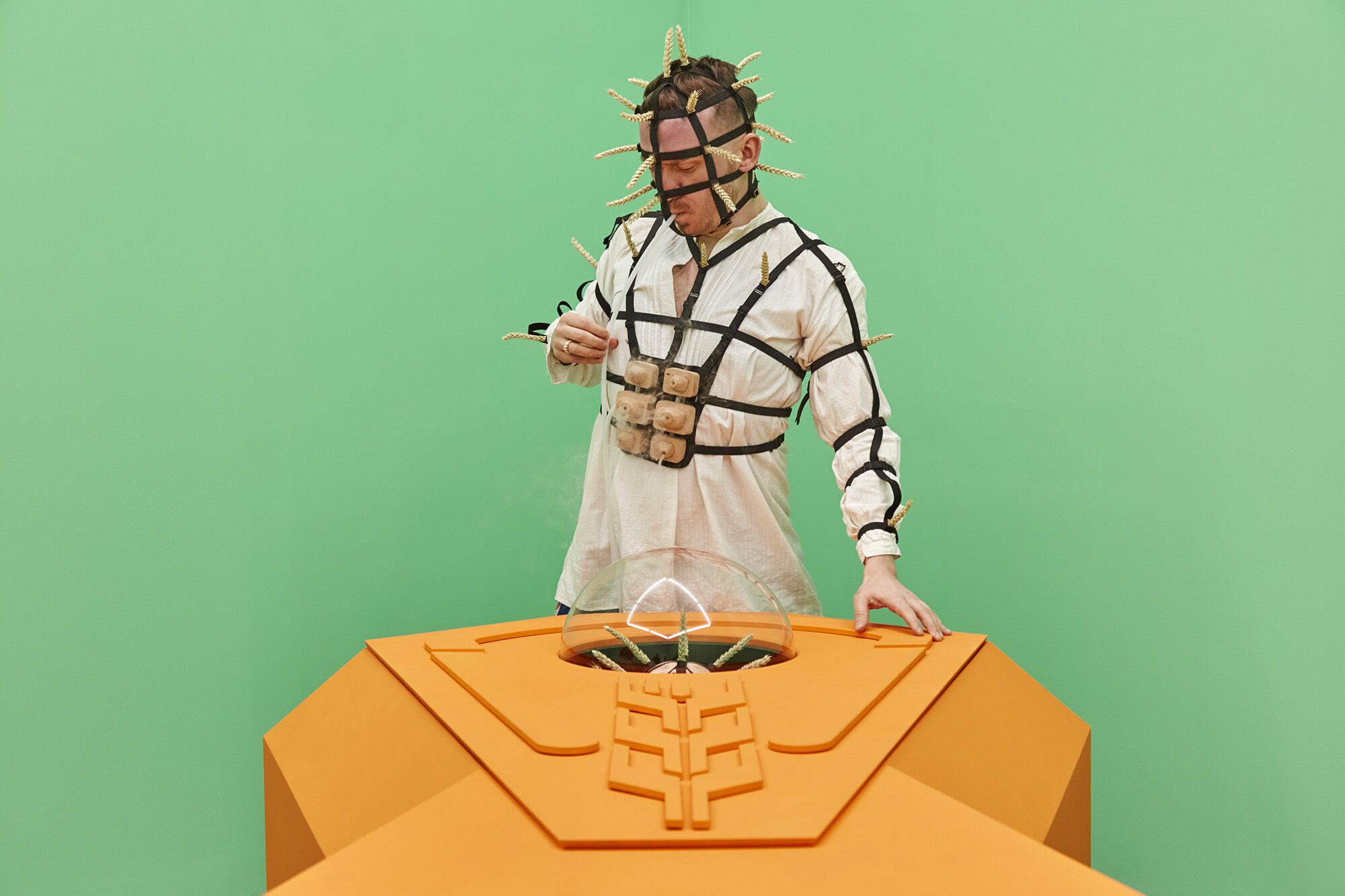 Interludium, Rafal Zajko as Chochol, performance (part of the exhibition Resuscitation, Castor Projects, London, 2020)

-

In his recent work Rafal Zajko has been exploring ventilation systems, prosthetics, Polish folklore and science fiction. He received his BA in Fine Art from Chelsea College of Art, London. Recent exhibitions include: "Resuscitation", solo at Castor Projects (London, UK), "Nosztromo", group show at Ashes/Ashes (New York, USA), 1999 – The Oracle Told Me I'd Fall in Love with the One, curated by Natalija Paunič, Fotopub Festival (Novo Mesto, SI); My tu bylismy, Galeria Im. Sleńdzińskich, (Białystok, PL); On Precarity, Grand Union (Birmingham , UK).

-

www.rafal-zajko.com

@rafal_zajko

-

If you like this why not read our interview with Jack Lewdjaw.

-

© YAC | Young Artists in Conversation ALL RIGHTS RESERVED