Rufus Newell


Interview by Abi Mitchell

Published June 2017

-

Rufus Newell, based in Leeds at artist led studio Assembly House creates drawings and paintings through a heady mix of layered materials and explorative medium mixing. Part of the Precious Art Collective, Rufus's work infuses life and passion into both 2D and 3D works.

-

I wrote about your work last year for a review of your debut solo show Hercules and His Club at South Square Gallery. In the review I noted how your work was filled with a 'pastel ferocity'; luscious colours with dense and layered imagery - your recent work seems to contain this too but through small snapshots, miniature drawings from your Thailand residency (2017) - how did this residency influence the work you made?

Thanks I really liked your review, pastel Ferocity! Thailand was an amazing experience, the scenery was beautiful yet overwhelming, so I found drawing from a select view really helped. I made a square viewfinder with my hands to focus on a narrow section and drew from that. Also being able to work outside was great, especially when coming from a cold dark studio in Leeds to 30 degree heat. The rich variety of colours, lush dark greens and bright Buddhist orange definitely made their way into my palette.




Green leopard


Your drawings are heavy with colour, creating a very tactile and rich image, how do you achieve this affect and is it important to your practice to leave such a gestural trace within the final image?

Yeah I think it definitely is, I like to rework an image until I am happy with it, sometimes this happens fast, other times it can take many attempts. Some of my favourite drawings are ones that I can flip over, turn around and rework. A dirty piece of paper is my ally. I like to have all my materials ready at hand and grab colours I am drawn to, trying to surprise myself and not fall into a repetitive trap. I have found working with oil bars and thick chalk pastels helps me achieve the gestural approach that I am looking for. I like the idea that I am building an image and at any point it can go from being a painting of a shield on a table to a green leopard climbing a mountain. Theres' an anecdotal idea about an ant and depth that I often think back to. You have to try to imagine if an ant could walk up to your painting and climb into the image without falling off. When I am about half way through an image I think about the ant and it really helps me see if I have created the depth I am after.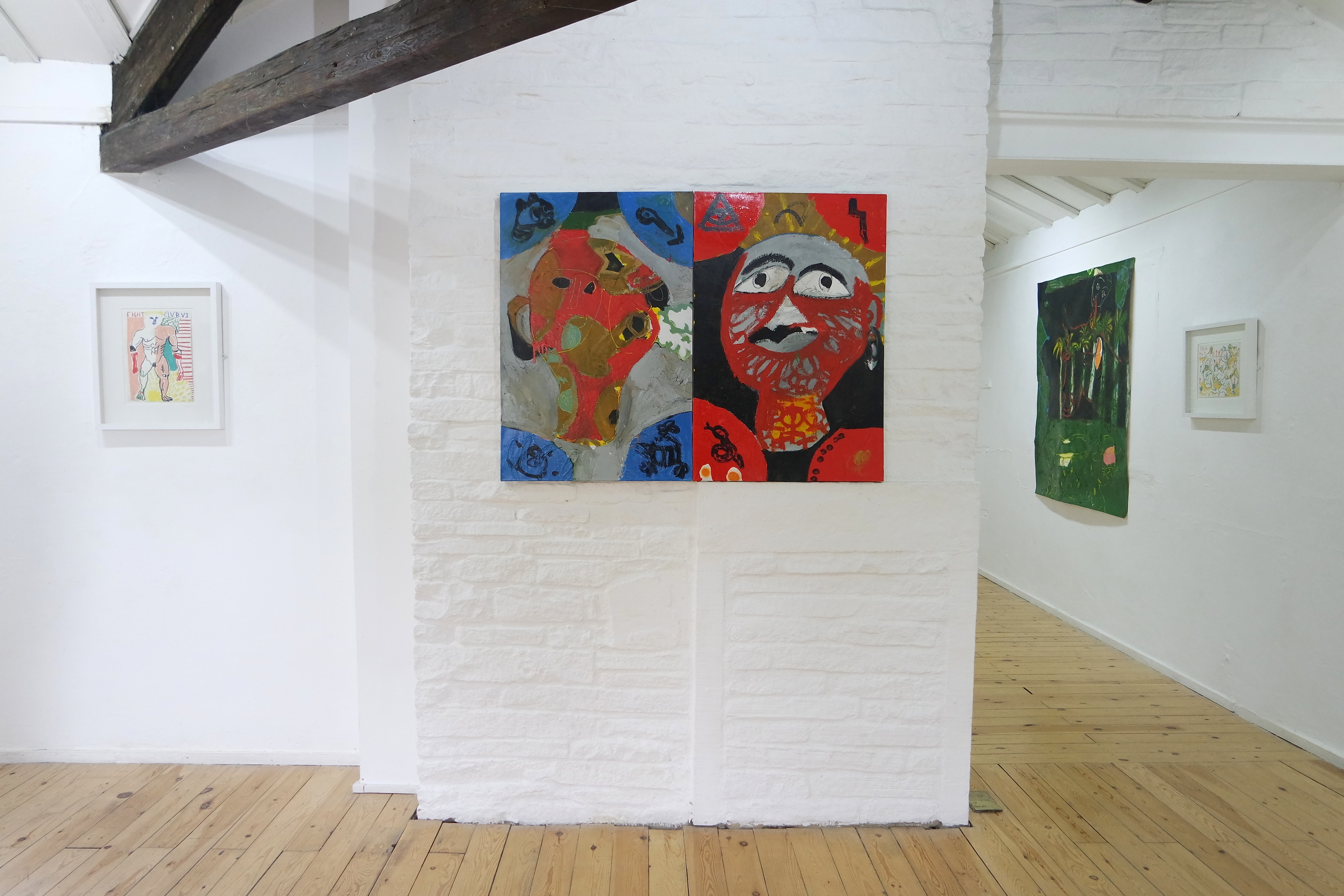 Pot head


Work since the Hercules and His Club exhibition which explored greek statues and mythology, has continued to contain traces of these same themes; images containing vessels, busts and men caught in some kind of highly gestured action such as riding a rearing horses or having his head removed from his body - does your practice run through themes or take inspiration from many sources?

I like to think that I take inspiration from various things however I often come back to the same themes, particularly the male body, to be honest I think it's an exploration of self. I used to draw beards on pictures of sports stars in newspapers and to an extent I am still trying to do a similar thing. I recently made a picture of a body without a head and drew a head on a separate piece of paper, cut it out and stuck it on, not really thinking much more about it until someone asked me if I had depicted an abstract version of colonel Gaddafi's death. At first I was surprised by the question then later came to realise that most of the images I gravitate towards depict War and some sense of violence, however I didn't count for this being apparent within the finished piece.

At the time of my Hercules and His Club exhibition I was working at the Hepworth and they had a show on that contained a lot of classical Greek and ancient sculptures. I was often staring at these objects all day long so it seemed fairly natural to start to draw them. The immense marble sculpture called Laocoon and His Sons had a real power for me and I wanted to try and get that weighty quality into a drawing. It's worth mentioning that I was also desperately scrabbling around for ideas before asking people to come to what was at the time my first solo exhibition.

Going from original inspiration to a related question, people are always interested in how an artist works, literally, can you give an insight into how you go about making your work from conception to end result?
Looking at your work from recent exhibitions I see a reworking within some images, is this the case that you go back to an image and re invent, layer over it?

I go to the studio with an idea of what I intend to draw, get there and instantly start doing something completely different, go on Instagram for an hour, realise I am hungry, go to Greggs for a sausage bean and cheese melt, then back to the studio to check Facebook, then finally start drawing. I use old drawings, that haven't worked, cutting them up and trying them out in a new image, as a hand or a series of legs. When drawing and painting I like to overlay, obliterate and edit in until I am pleased with its visual quality. Failing that, old drawings make great birthday cards for mates.

Favourite Greggs pasty? Could be the most important question here.

It's got to be the sausage, bean and cheese, washed down with a Bavarian slice.




Votive offerings


Your style seems to have become more distinctive over the past couple of years since graduating University (Leeds College of Art), as mentioned before, an on going thematic subject matter appears throughout and the use of layering and texture gives the work a very distinct aesthetic. Do you feel you have found a style and if so when did this begin to emerge?

To be honest I am not sure if I have found a certain style I feel fully comfortable in, there are doubtlessly ways of working that I gravitate towards. I think style is defined by an individual's artistic fluencies, but also by the things that they can't do. I remember getting to the end of University, after believing I was a performance artist, longing to find that brilliant conceptual idea and trying unsuccessfully to draw through sound, and thinking I like drawing with pastels and paints best. It was a good moment for me in which I let go of trying to make work I thought I should be making. This makes it sound rather nice and cordial, which for most of the time it wasn't. Also if you were reading this and thinking I seem to be on sure footing with my 'style' then let me clatter that and throw constant self doubt and prevailing uncertainty into the mix.

The idea of obliteration you mentioned really resonates, I can see how the heavy chalk and oils layer upon layer mask each other, what might have once been a landscape becomes a curtain of rich colour, obliteration allows the imagery to have depth beyond what was originally intended. Is this obliteration necessary within your working method? I have seen many of your works which operate in the reverse, simple line drawings for example with no underlying layers of material.

Experimenting with new materials, colours and approaches keeps me on my toes. I am interested in creating depth, through exploiting different material properties, to arrive at surprising ends. At the moment I am enjoying dragging chalk over thick wet oil paint to distort the image. Occasionally destructive but necessary. Often it's a toss up between knowing whether the work is finished, or if I am finished with the work.

I saw some of the painter Ryan Mosley's work recently, what resonated with me was his use of layers and where different depths of material met. There was a slight gap between two blocks of colour in which you could see flashes of a previous image. This was great, almost as if he had allowed the eyes of the previous image to peek through, like a massive whale snatching a look at you through a tiny slither. It made me feel more comfortable with the work.

As much as I like layering up a painting, I find the bareness of drawing can also be really powerful.

I am also curious about your description of how your daily work influenced your artistic works, it seems you absorb your surrounding and leach them out into your drawings, for instance in the Thailand residency the landscape you were experiencing became your subject matter. Since working at The Hepworth Wakefield what have you gone on to do? And do you find this new role cropping up in your artistic practice at all?

I am now working as a set builder for a great company called Lord Whitney. I am learning how to build things which has definitely helped inform and widen the physical possibilities of my art. I can freely play with power tools and scrap materials, currently loving 18mm birch ply and gorilla glue. Recently I have finished a series of drawings and it's been brilliant to be able to make the frames myself.

Recently there has been a big effort amongst studio holders to improve our spaces, the best thing being the introduction of natural light. There are quite a few painters at Assembly house, we all realised we were using loads of bright shinny gloss paints to combat the darkness of the studio. I remember taking a painting to Manchester for a show and putting it up and thinking fucking hell it's luminous!




Paradise


Recently you have been involved in a number of small scale shows selling work. Are you working towards any particular project or outcome at the moment? What is next for you in the immediate future?

At the moment I have a series of chalk drawings I am keen to show, they are the ones I have made frames for. I was thinking about only putting them on Instagram, which has served as a brilliant platform for me, however now I would like to exhibit them, mainly just to show off the frames! In July I am part of a drawing exhibition in Halifax. For that I have been working on a big painting, probably the biggest I have done, and I might have to rent a van to get it there! Also me and the Precious gang will hopefully be doing an exciting thing in the not too distant future, watch this space or check out my Instagram…

-

Rufus Newell lives and works in Leeds. He is a studio holder at Assembly House, and a member of Precious Art Collective. Recent exhibitions include Get it for cheap, touring exhibition, Los Angeles, Athens, Copenhagen, New York, 2017, Thai Prices, Assembly House, Leeds, 2017, Paper cuts, Transition Gallery, London, 2016 and Slowly, slowly catch a monkey, Bristol Biennial, Bristol, 2016. Rufus was recently showcased as a featured artist on arts website It's Nice That and was the recipient of the inaugural Joan Day Painting Bursary with a solo exhibition at South Square, Bradford, 2016.

-

If you like this why not read our interview with Alexander Glass

-

© 2013 - 2018 YAC | Young Artists in Conversation ALL RIGHTS RESERVED