Shaun C. Badham


Interview by Trevor H. Smith

Published February 2016

-

Shaun C. Badham is an artist with a multi-disciplinary practice in medium and method, he is the artist behind I'M STAYING produced with Bristol Biennial in Bristol, UK and MORNING produced with curator Warren Harper in Essex, UK.

-

I'M STAYING is a large-scale (5.5 x 0.8m) neon text piece. At the time of this interview it enters the final eight months of a two and a half-year tour of Bristol, during which each new location has been chosen by a democratic online vote; The work was unveiled on the roof of Arnolfini gallery as part of the Bristol Art Weekender in 2014 and then launched at Bristol Folkouse for 2014 Bristol Biennial. It has since traveled to a further four locations and has two more moves scheduled before this year's corresponding event in September, when I'M STAYING is due to depart from Bristol altogether to rest until its future is determined.


-


In the two years since I'M STAYING was revealed at Arnolfini it has been hosted by five other venues. As I considered what it must be to complete five take-downs, five installations, five preview events, five introductory speeches, and everything else implied therein – about the same piece of work – it struck me that the durational aspect of this project is of equal significance to the many other themes it addresses, which we will discuss later. My first question, then, is are you tired of it yet?

For some time now I have considered myself the facilitator, or neutral party, within the project. In a way I feel I have to be, not just because of the democratic format the project operates within but also the need to maintain a sense of excitement for all the locations in the running for the artwork. I have had to be as invested (yet pluralistic) in all the artwork's locations from its first to its last. When I am asked where do I want it to go, or how do I feel about it at a certain location, I can't and don't really respond. Although the artwork was informed by a personal anecdote and feeling, my approach to producing (the framework) the artwork has been far more pragmatic. In a sense the artwork and my practice are governed by a small set of parameters, which I stick to. It was also something I felt I had to do, when the idea initially came, I realised I was committed to making this happen. I have also been facilitating or allowing a sort of by-product of the project to develop; an offshoot which includes various other interventions and ephemera. Though these are far less publicly recognized than the neon, they are important for me. So to your question: For me no, the project gets a rejuvenation, a facelift every four months in the form of its move and a launch at another location, so that keeps us all very busy but there have been difficulties and pressure along the way like any durational project. We are a very small team, so it can be tough, but the launches also act as a reminder to us why we all do it.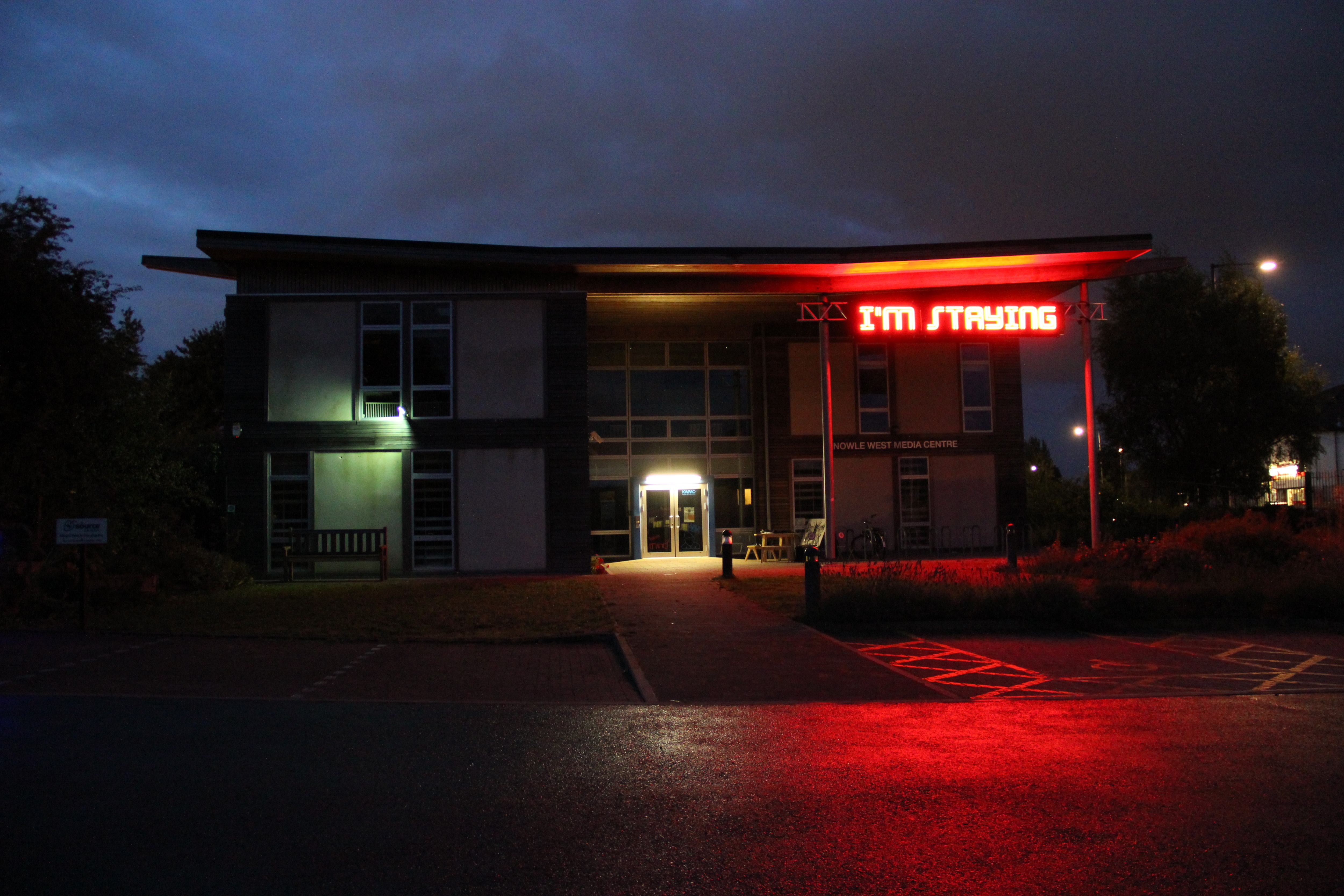 I'M STAYING, Knowle West Media Centre, Leinster Avenue, 3 June to 9 Sept 2015


That's a relief. I'm drawn to what you say about being the facilitator. As artists we must get used to letting go of our work as we put it out into the world, so to speak, but what you have here seems a more active extension of that, a more deliberate stepping back. Barthes's Death of the Author is prescient here – the idea that an artwork is never complete, and that new viewings add new meanings to the work. You mentioned the idea originating in a personal anecdote – I want to understand whether it was purely out of that anecdote that this piece was created, or had you in mind the idea of letting go as a guiding principle to the creation of some work, for which this particular phrase – I'M STAYING – became such an apposite yet ironic fit?

Sharing the authorship and ownership (letting go) of the artwork via a democratic vote has always been integral to the piece, and has allowed its meaning to shift each time. The use of first person has allowed the I'M to shift as the voice, and has meant that the artwork can be re-interpreted in relation to each new location, building, organisation, and the people who voted for it be there. You then also begin to unravel the relationship between the host/organizations and the city in a wider sense. I think the potential of the engagement is vital, and for me it's all about choice, offering various points of entry, allowing you to have your say, in this case where something resides in the city. It has opened up a broad audience for the piece. The work was initially informed by my leaving of Bristol, that experience at least informed a few different feelings, emotions (most likely homesickness), which I guess in turn allowed me to reflect on my own relationship to the city, my friends, job, studio, and so on. This gave me an interest in not only creating something in Bristol, but allowing the public of Bristol to reflect and engage with their own relationship with the city, or a building, or a place, which served to further diversify the discourse around the work. From this the phrase came to mind and very shortly after the method and model of the project began to develop.




I'M STAYING t-shirt created in celebration of the artworks 1st year anniversary, t-shirts are available at Arnolfini, Bookshop


Those smaller side projects, might they help when it comes to dealing with the sheer scale of I'M STAYING? In terms of keeping your feet on the ground, so to speak. On a personal note this project is on a scale like nothing I have ever attempted, logistically, so I think I would find it quite daunting. You say once the idea came to you, you were committed to making it happen - as a postgraduate student were you offered much guidance in realising the project?

The side projects are vital for me, and in a way they act as meta practice, a chance for me to critique the project, my own process, method, and other themes that can't be tackled through the on-site element of the project. These side projects usually exist or are presented within the gallery space, which is important as it allows the project to somehow exist within that realm. I'M STAYING is my first large scale project, and with that various assumptions are made about me as a young artist, such as "so you are a neon artist" or "you make public art" or "you are that democratic artist". In theory yes it is neon and yes it does reside within different public spaces via democratic vote, but my practice does not operate in a singular project or form. For me the idea dictates the medium and together the medium and idea dictate its location, that is how all my projects form, conceptually. Utilizing the gallery space as a sort of neutral platform for critique is helpful for me to make sure the project is considered and discussed by my peers and a critical art audience. This allows I'M STAYING and its audience - and myself - to straddle different areas and platforms where contemporary art can exist. Obviously I do all in my power to make sure the wider audience in Bristol is acknowledged; through surveys sent to voters, through conversations, interviews, and other media, we make sure that their voice is not just a vote, but that their reasoning will be heard. A publication will be launched at the end of the project that will aim to critically dissect both the project and the discoveries we have made via interviews, texts, images and so on.




Installation installed for Goldsmiths Interim Show 2015 titled I'M STAYING crossing the line


The project itself would not have been possible without the support I have received from individuals and local businesses, which is flattering. Quite early on in the project it appeared to me that it didn't feel appropriate to seek funding from a single external body such as the Arts Council. The project, in theory, was addressing ideas of locality, democracy, and the city of Bristol, so it felt right to attempt to tap into the resources and skills available in the city while simultaneously celebrating them. Allowing this methodology to become intrinsic to the project meant it became a collective achievement. Every element of the project is formed by or with someone or something from Bristol. In theory I am the anomaly as I am the only one residing externally to the city, which emphasises my neutrality, although the project has drawn me back consistently since it began (which was when I first departed), which addresses the personal feelings that brought about the phrase in the first place; it brings me back to everything I missed.
Subsequently I adopted another role about a year ago as co-producer of the project which was something I embraced not just because of my pedantic character but to understand the other side of an art project such as administration, marketing, communication etc. I have learnt a lot from this and something that has shaped my mentality towards other projects since.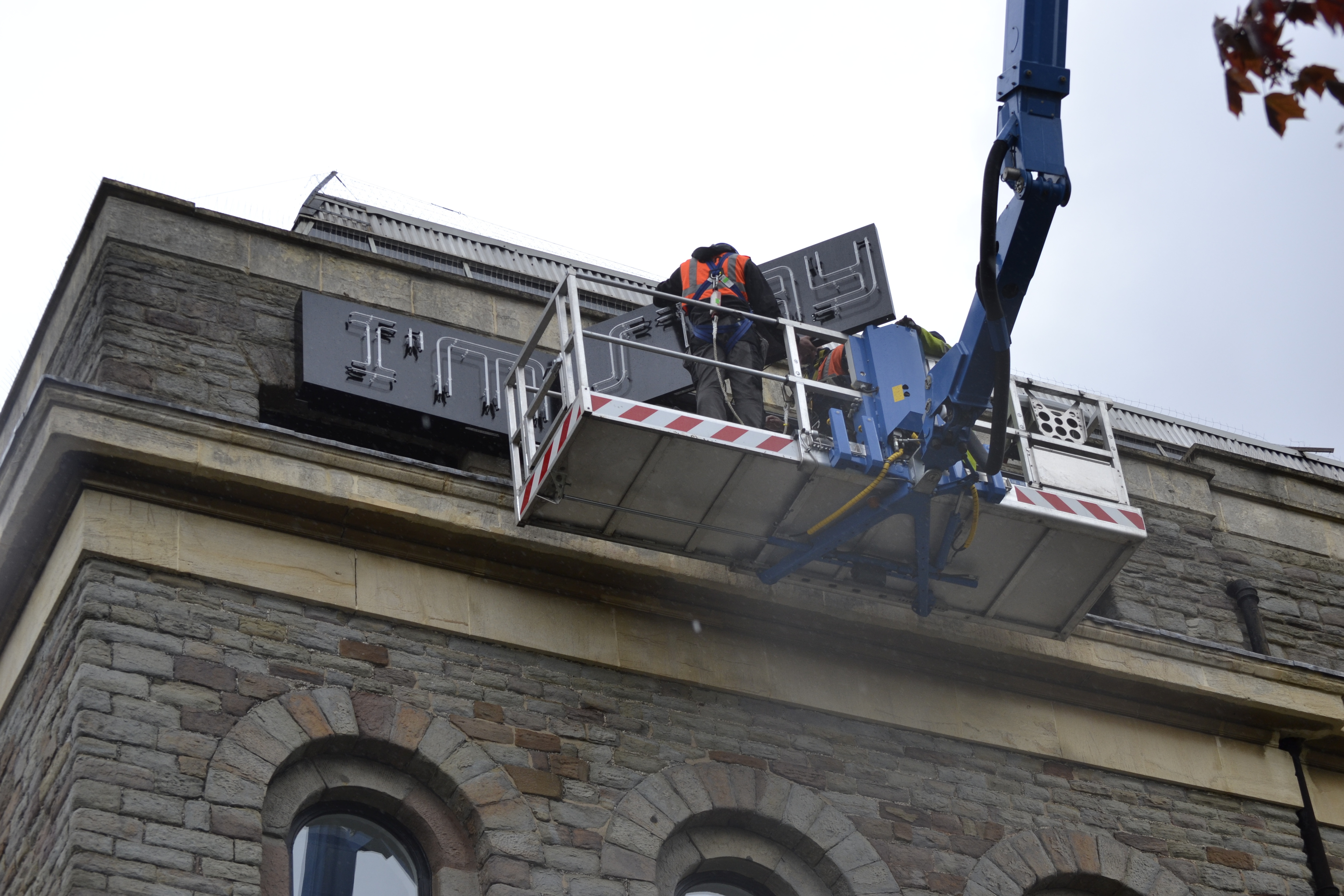 Install of I'M STAYING at Arnolfini, centre of Contemporary Art in April 2014 with sponsors Blink Giant Media, Badger Electrical and Nationwide Platforms


Logistically the project is built around three commercial companies in Bristol, each of whom has offered their specialist skills for free or at a greatly reduced rate. Blink Giant Media are a 'Giant Graphic project and installation team' run by Steve Wilkinson who became the project's initial guarantor and guided us in building relationships with other companies in Bristol. Badger Electrical have handled the transportation and installation of the artwork, and the South West branch of Nationwide Platforms have ensured we have had the appropriate equipment to install the artwork in all its locations. Co-producers of the project, The Bristol Biennial, comprises an eclectic group of individuals, some of whom are my friends and others I formed a professional relationship with. Despite all of this help the project still needed financial support, and that has been offered by Simmons & Simmons, Jeremy Lewison Ltd, and Gane Trust, all of whom have strong Bristolian ties.




I'M STAYING, Clifton College's Redgrave Theatre , Percival Rd, 29 Jan to 29 May 2015


That is fantastic for you and very encouraging for anyone that thinks projects on this scale might be beyond them. Another thing you mentioned earlier was that I'M STAYING, along with your wider practice, is governed by a small set of parameters, which you stick to. Would you care to elaborate on that?

The parameters are unique for each project and are written accordingly, and although it may sound like setting rules is restrictive, the intention and outcomes are more often the opposite. The regulations are put in place so that certain elements are maintained over a long period, while anything else that enters the work is always welcome. This openness allows for different creative approaches. For example, there are five main regulations for the production of I'M STAYING:
The artwork will move quarterly from its inception from Bristol Biennial 2014 until September 2016. This framework aims to explore the idea of eliminating the longevity of an arts festival that operates bi-annually. I was concerned with creating a wider dialogue and how such questioning could be had in such a short period of time, thus I'M STAYING started in BB2014 and will end in BB2016, bridging the gap between the two festivals. The title of the BB2014 brief was crossing the line, and I felt this was an effective interpretation looking at not just the relationship between festival and artist but also artwork and audience.




I'M STAYING, Arnolfini Centre of Contemporary Art, 16 Narrow Quay, 4 May - 31 Aug 2014


The amount of votes a location has acquired will not be revealed to any party involved (unless they win the artwork) and locations will be ordered online alphabetically not in regards to how many votes they have. This was to enable the artwork to attempt to operate in the purest form of democracy, and that each location attempting to win votes was doing so for a genuine cause. The locations aren't able to gauge how many votes they have received, meaning the end-vision remains the artwork and not simply number watching.

The artwork has to exist on the façade of the building. I wanted the artwork to exist publicly, as a sort of announcement, and to be visibly accessible, allowing the artwork to become an extension from the host/building.
The project is to be produced and sponsored by individuals or companies residing in Bristol. As explained in my previous answer.

We will do whatever it takes to make the work happen. This statement has an activist sensibility but within our methods we have had to navigate round the public realm to be able to accomplish the project, bypassing a sense of bureaucracy. All parties involved have sacrificed individual gain, rather they have viewed the project as a whole and the legacy that comes with it.




I'M STAYING, Hamilton House, 80 Stokes Croft, 26 Sept 2015 - 26 Jan 2016


Thank you, Shaun, for sharing in the process of understanding – I'm sure you'll agree we both discovered things we had previously only grasped at or skirted around. So, to the future: I know I'M STAYING has another eight months to run, so that will obviously keep you busy, but in the meantime you will be completing your MFA at Goldsmiths, and then what? A return to Bristol? More public art?

Thank you, this has been an insightful process, and it's very rare I get to simply talk exclusively about a single project. What next? It may sound surprising but I have actually been working on another large scale project, which has intentionally been running simultaneously with I'M STAYING. The project is called MORNING. I'm working on it with curator Warren Harper and it is supported by Basildon Council and Arts Council England, situated at Laindon in my hometown of Basildon, Essex. The primary context and focus of the project has revolved around a park in Laindon called Victoria Park, which is host to a series of 1970s climbing frames. These can be seen as symbolic, an integral representation of the modernisation/urbanisation that took place in Laindon during the mid-twentieth century. MORNING has taken on a collaborative form of action research, and there are many areas in which it overlaps with I'M STAYING, in that it has brought in experts from other areas. In the case of MORNING it has included dialogue with design historians, artists, archive groups and local people, and has produced a series of posters, GIFs, and T-shirts, as well as participation in a local fun walk and other exhibitions. All of which aims to contextualise the ongoing research and artistic activity as we build up a plan to repaint the heritage climbing frames.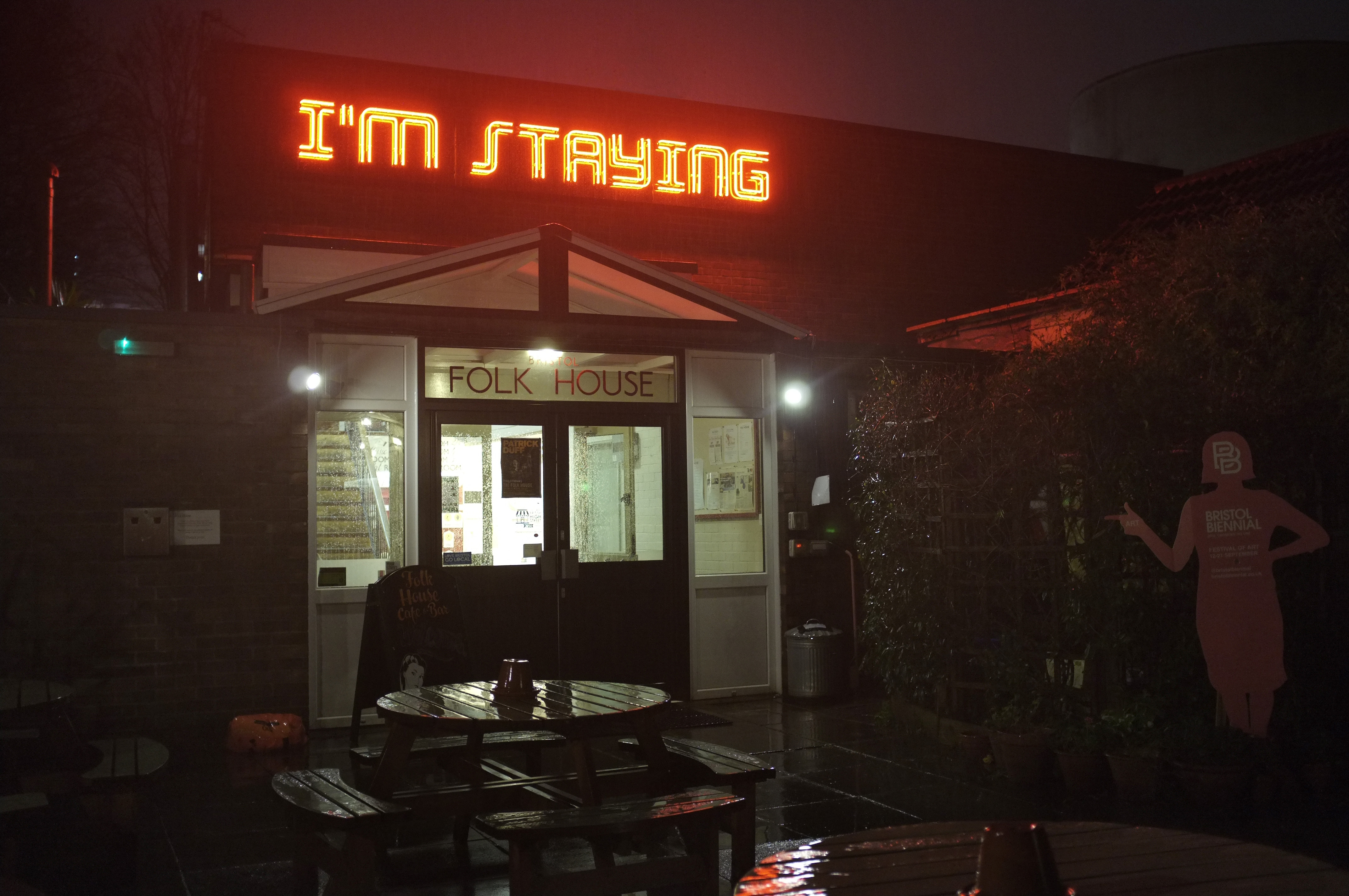 I'M STAYING, Bristol Folkhouse, 40A Park Street, 12 Sept 2014 - 12 Jan 2015


Both I'M STAYING and MORNING will both be completed at the end of 2016, at which point I will focus on finishing the MFA Fine Art at Goldsmiths in Summer of 2017. After that I may take a moment to breathe, but I haven't quite thought past 2017 yet. You can follow the MORNING project on twitter @project_morning and you can vote for I'M STAYING here: http://www.bristolbiennial.org/projects/I-M-STAYING

-

Shaun C. Badham lives and works in London. Recent exhibitions include I'M STAYING, Hamilton House Open Day, Knowle West Media Centre & Redgrave Theatre, Clifton College, Bristol, ASSEMBLE NOW, Inland Arts Festival, Redruth, Cornwall, Shields of Destiny, Curfew Tower, Cushendale, Northern Ireland and Liminal Space, Temporary Arts Project, Southend, Essex

-

If you like this why not read our interview with Liz West

-

© 2013 - 2018 YAC | Young Artists in Conversation ALL RIGHTS RESERVED