Sofía Clausse

Interview by David McLeavy

-

Published in January 2023

-

Soft Water is the most recent solo exhibition by Argentinian artist Sofía Clausse. Curated by Playing Fields (currently David McLeavy & Kristian Day) and displayed at Slugtown in Newcastle, Soft Water explores themes of interconnection, the flows and systems of water and how matter can be re worked into new forms.

I caught up with Sofía a few weeks after we launched the exhibition to talk through how the exhibition came together and to further explore the ideas presented in the show.

-



Soft Water, installation image, Slugtown, Newcastle, UK, 2022


Thanks for taking the time to chat to me about your work, and it's been a pleasure for fellow curator and collaborator, Kristian Day, and I to work with you on your recent solo exhibition Soft Water at Slugtown, Newcastle.

To me, one of the recurring themes of your work revolves around the idea of the cycle, specifically how themes and physical elements are reused in other work, sometimes literally, performing a feedback loop of sorts.

I wondered if you could unpack this a little and talk about where this interest comes from.

Thank you Dave, it's been so good to work on this exhibition, and work with you, Kristian, and Matt and Max from Slugtown. This show was a great opportunity for me to explore those ideas of cycles and feedback loops in my work. I think this is something that unfolded naturally in my practice, rather than trying to intentionally make work about this. I'm naturally always observing cycles in life, whether it's about how I experience passing of time in different ways, how my thoughts change over time following patterns, or also how the body, emotions, and nature respond to cycles of the moon. I think that by paying attention to this, it results in the practice responding to what I pay attention to. It's that feedback loop, or reciprocation, of paying attention and becoming. In terms of materials, I'm very conscious about waste and I try use this limitation in my favour, and I realised that the circulation of material in the production of the work was also a cycle in itself. This is also how I started to understand the paintings with looping lines – which had started as exploration of movement and tools – to be like a conceptual path that the practice goes through.


What I really like about the works within Soft Water is how you can start to piece together the feedback and cyclical loops that exist in the works from literally matching the holes and gaps in some works where you have removed shaped sections and added them to other pieces. The materials you tend to use are fairly common and humble, typically coloured paper and acrylic paint, even down to the glue that you use (an organic rice based glue if i remember correctly). Does this come from using materials that you easily have at your disposal and have you always worked with these materials?

Yes, the humbleness of the materials is something I think about a lot, and how sustainable they are. I'm also interested in reversing that hierarchy of values in the materials, and as artists this transformation is something that we can do, to take something humble like a newspaper, and transform it with gesso and paint into a new material or surface for the work.




Soft Water, installation image, Slugtown, Newcastle, UK, 2022


On the subject of reusing materials, do you ever re-use 'finished' artworks to produce new pieces? For example, when you look at the works currently on display as part of Soft Water, are you thinking about ways that they could be almost ingested back into your practice, as material fuel for new artwork?

Yes, that's how a lot of the works in this show were made actually. For example, the leftover papers from making the Rain piece and other works on paper, would have been made into paper pulp to create the paper pulp pieces. Or the Parts I Book is made from sketches that I've made to create the painting Everything. Sometimes these sketches also get shredded to make pieces like the Tassel Knot, or the shredded paper gets woven into the Tea Towel. All the material is always circulating, and the pieces get made from leftover from other pieces. In this way, the making of works is self-generating, creating a big loop of materials across the practice.



Rain, acrylic on paper and mix media, 125 x 105 cm, 2022.


I love that approach. Almost as if exhibitions and chances to display the work are snapshots of the current material state that the work occupies. For example, if your exhibition at Slugtown in Newcastle opened a month later, the works might have come out differently or be at a different stage in their cycle.

I'd like to chat a little more about your influences. You have spent a bit of time making work in different countries, including the USA and Portugal as well as here in the UK. Would you say that your location influences your work in any way, and could you talk a little more about other factors that inform your work?

Yes I think my location definitely influences my work, having moved around from Argentina to USA to Portugal and now to UK, language and translation is big part of my thinking, I play around with words and language and translation and mistranslations. And in terms of the actual surroundings in the location, that definitely influences too. My current studio is next to the water, and that has played a big part in working towards this exhibition.

In terms of other factors that inform my work, tools and limitations are always influencing my thinking, I also really like to look at antique textiles and I collect a lot of weavings especially from Guatemala, and I like to look at typography, Adrian Frutiger being one of my favourite type designers because he also studied symbols and abstract forms that come from the shapes and drawings of of letters. And I also like looking at concrete poetry, because of how they play with and create its own language with multiple meanings, translations, visual forms and multiple ways of reading.




Image taken in the studio of Sofía Clausse.


I love the way you build systems for making. I really like the tools that you have developed and use to hold pens and brushes to make the paintings. I wondered if you could describe them a little more for anyone reading the interview who hasn't seen these tools before?

I've been making my own custom tools for drawing, painting, or printing. All of them always make parallel lines, but they all function differently and are made from different things. I have some that are made from toy cars, which are more playful and random, I have one that is made from a screenprinting squeegee to print with, and I can lift up different parts of it to adapt the number of parallel lines it makes. I have one that is 3D printed, which I can attach markers or brushes to, or some that are just made with pencils, and which I can use different pressure to change the width of the stroke, or how close together the parallel lines are drawn. I make all of these tools because something I'm interested in is questioning how different tools create different marks that are specific to how these are used, to the tool's limitations or its rules, or even how when the tool breaks or behaves unexpectedly, something interesting happens that I can pay attention to, which might change the path that a painting takes, not only in its form, but to the conceptual development of the practice.



Everything, acrylic and paper on canvas, 110 x 90 cm, 2022.


I also wanted to discuss your wall paintings. For Soft Water you have created a new piece, painted directly onto the wall, which also incorporates other works within it. This feels like a development on a similar work you created for your Royal Academy Schools final show. Could you talk a little more about the importance of these works and how you see them developing in the future?

I normally sketch or make a lot of diagrams, which I started for my own understanding of my work, to visually map connections in the practice, or to make new ones. Eventually I realized how important these are as a form of language that is specifically my own, and I started expanding what a diagram can be, using text almost as a material in itself that I can move around, cut, combine, form into shapes, and in this way creating new meanings or my own way of writing and reading. I think of these diagrams as a way of testing and learning; and I'm always surprised at the agency that they have, outside of my control. This way of 'exploring' or 'experiencing' with art diagrams is opposite to the way conventional diagrams are used in 'explaining' or 'summarizing' information. And they've helped me open up the space of the exhibition and to physically interact with works in new ways, so I'm continuing to explore these to see what else they can do and how they keep developing. But I don't really know where they'll go, they're so unpredictable to me every single time, and I like to be open to these unknowns to see where they take me.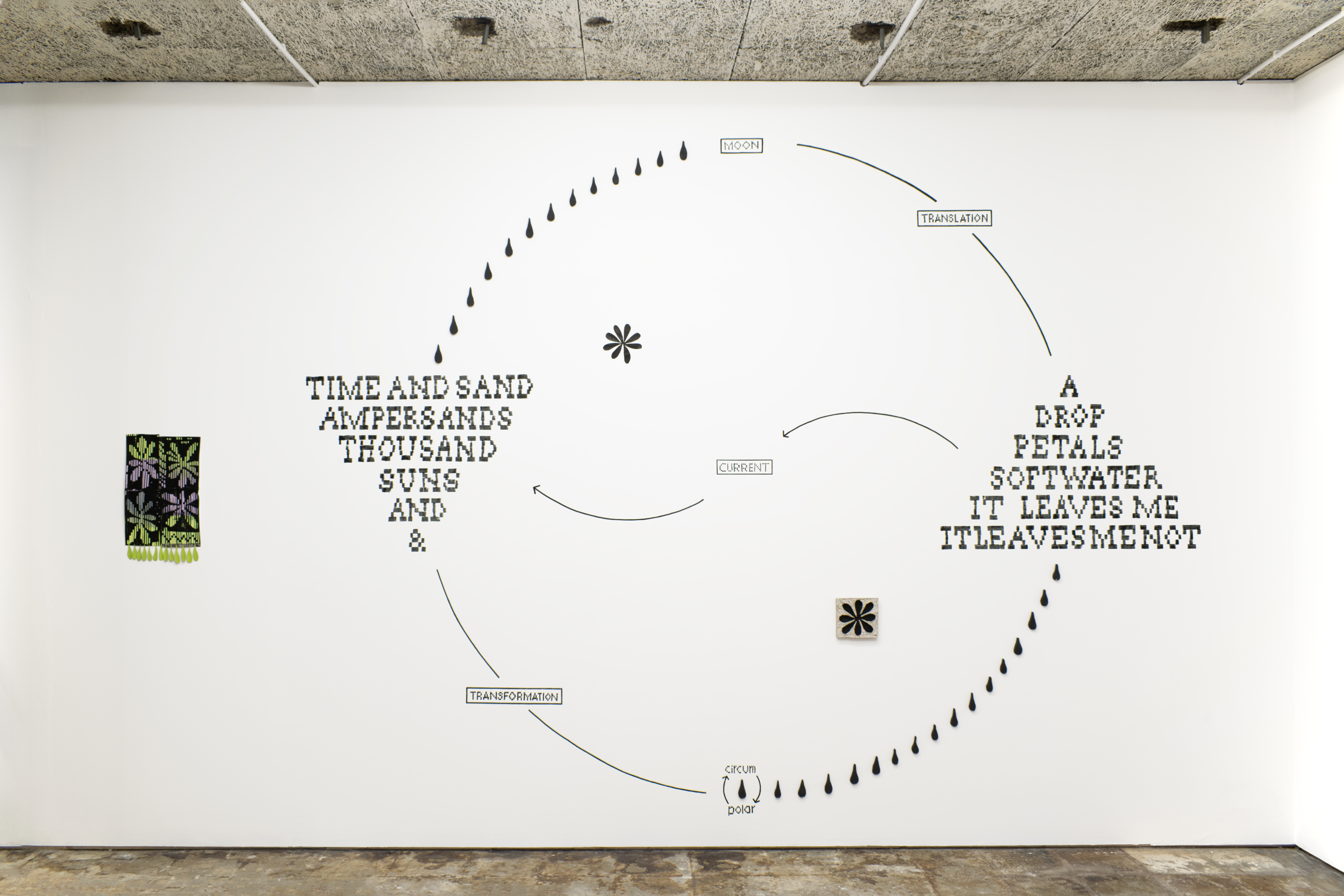 Soft Water, installation image, Slugtown, Newcastle, UK, 2022.


What's next for you? Do you have any new projects on the horizon that you can talk a little about?

There's a few future exhibitions in the works, none of them super confirmed yet that I can say, but hopefully happening early in 2023. And later in the year I'll be going to Portugal for a residency for two months, so I'm very excited for that also, where I want to work on more site-specific wall paintings, maybe some outdoors. Mainly what I hope for in the new year is to spend as much time in studio as I can, there's so many things I want to make, and sometimes it's hard to find the time for everything I want to do. But I'm just as curious as to where these cycles and paths will take me next.



Softwater, black clay, 75 x 35 cm, 2022.

-

sofiaclausse.com
︎ @sofiaclausse

davidmcleavy.info
︎ @davidmcleavy_

slugtown.co.uk
︎ @slugtown_

kristianday.co.uk
︎ @kristiandaygallery

︎ @playingfieldsprojects

-

If you like this why not read our interview with Gaspar Willmann.

-

© YAC | Young Artists in Conversation ALL RIGHTS RESERVED